I was in London in the beginning of this month, and I visited the National Gallery and admired some fabulous 15th century paintings, among them this one:
Consider Gabriel and Mary. Both are equally flat-chested. Both are equally smooth-faced, rosy-cheeked, mild-eyed and fine-featured. Both have wavy hair and almost identical semi-long hairstyles, although he is more blond than she. He wears pink and she wears blue. He sports fantastic multicolored wings, but her halo is bigger than his. Both strike very similar poses, although he is standing up and she is sitting down.
Seriously, people, in what way or ways is he more masculine and less feminine than she is?
You'd think that only angels could look like this, and you'd be right, of course. But if angels were seen as ideals in any way, then the 15th century ideal for men was mild and gentle, at least in some countries. As I looked at more 15th century paintings, I could see that men in general seemed to have longish hair and clean-shaven faces back then.
Later on in the 16th century, men cut their hair short and grew beards.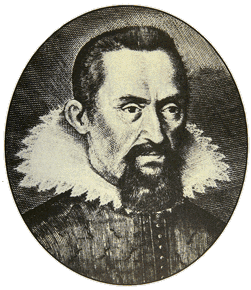 This is Johannes Kepler, who demonstrated, among other things, that the planets in the solar system follow elliptical orbits around the Sun. He was born in the 16th century, but lived half his life in the 17th century. Note his short hair, his beard and his slightly angry expression in this painting. He is not looking at us.
Later on in the 17th century, important men started wearing huge wigs. The mass of hair surrounding their faces made the men look generally larger and more imposing. This is Isaac Newton:
In the 18th century, men wore much smaller wigs, which were often powdered and white and tied up in small ponytails. The "heaviness" of the 17th century male fashion was gone, and the men expressed lightness, often a certain gaudiness and even a kind of foppishness.
After the French Revolution in the late 1700s, men's fashion changed in a way that it has never really recovered from. From now on, a man should look like this: Hair: Short. Face: Usually, but not always, clean-shaven. Clothes: White or light shirt. Dark long pants. Dark jacket. Dark coat. Dark or sometimes colorful tie or bowtie.
Another male ideal of today is the super-masculine one:
Masculinity has come a long way since the day of Fra Angelico's Archangel Gabriel. I'm not altogether sure that the change has been for the better.
Ann