On Tuesday we will celebrate one of the most peculiarly Swedish traditions, Saint Lucia's Day. It's not a "day-off-work" or "no-school-today" holiday, but it affects most people in Sweden anyway.
It all starts on the night leading up to Lucia. High school kids stay out very late, many of them all night, partying and drinking.
Then, early in the morning, Lucia herself will make her appearance. Lucia is always a girl who has had her "Lucia honour" bestowed on her, usually by people voting for her. Lucia is by far the most widely observed beauty and popularity contest for girls in Sweden. Every school must have its own Lucia, chosen among the female students of that school. Every town and city must have its own Lucia. Newspapers crown their own Lucia, having their readers elect her by voting. More than one TV channel crown their own Lucia, too. Even some workplaces have their own Lucia.
Even per-schoolers have their own Lucia procession, although here all the girls are usually allowed to be Lucia. Typically, proud parents will take a few hour off from work to watch their children being Lucia.
Lucia must always have a crown of candles on her head. She must wear a long white dress and wear a red sash tied around her waist.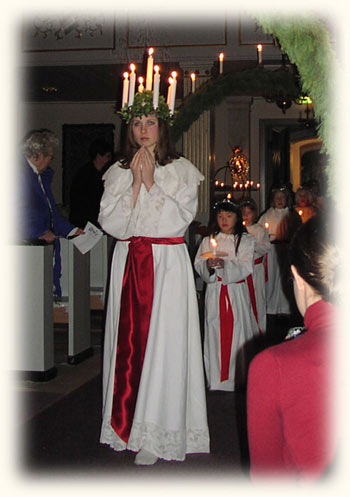 Lucia always enters a darkened room, walking at the head of a procession which also consists of other girls and sometimes boys. In the picture at right, Lucia's attendants - "tärnor", as they are called in Swedish - also wear long white gowns, like Lucia herself. Here the attendants appear to be children. Often Lucia and her attendants are the same age, and the attendants often don't wear red sashes. The attendants also don't wear any sort of headpieces with candles, although they always carry candles in their hands.
This is a typical Lucia celebration in a Swedish school. Many of the girls here will have been out partying all night, and they have arrived directly for their Lucia performance at eight o'clock in the morning at school. It will get very hot when the girls stand close together, holding their candles, and it happens that girls faint. That's why the school nurse is always in the front row, ready to help out if a girl is getting sick.
Lucia and her attendants have to sing a number of popular Lucia songs. This one is the most popular.
When I was a kid, very many boys would dress up as "stjärngossar" (literally "star-boys") and join the Lucia procession. Today, most boys shun the star-boy outfit, which is considered unbelievably geeky. This picture is from 1957.
Speaking of star boys,
please
click on
this link
and scroll down until you can see a cat in a star boy hat. Isn't he adorable???
Another thing that is typically 1957 is that the little Lucia is carrying a tray with coffee, gingerbread and saffron buns. When I was a teenager - which was not in 1957, I hasten to add - we always went home to one of our teachers, all dressed up as Lucia and attendants and star boys, very early in the morning, about six o'clock. We would ring the doorbell, and when the drowsy teacher or his or her spouse opened for us, we would come in, sing our Lucia songs, and bring out coffee, gingerbread and saffron buns. Then we would sing a few more Lucia song, watching our teacher and his or her spouse eat the Lucia breakfast that we brought them.
As I said, few boys take part in the Lucia celebrations nowadays, and those who do usually don't dress up as star boys. But when boys are present, they almost always sing their special "Staffan" song. The most popular version of the lyrics goes like this, in English:
Staffan (Saint Stephen?) was a stable boy,
we all gladly give thanks.
He watered his five horses
Because of the bright star.
No break of dawn can yet be seen
The stars of the heaven they twinkle.
And then the Lucia celebration is over, and many students fall asleep at school later that day. But many "Lucior" - which is the correct plural form in Swedish - have a hard day of work ahead of them, as they will have to visit hospitals, homes for old people and various other institutions to sing to the people there to cheer them up. And in the evening, many people go to churches and to various clubs or even shopping malls to see more Lucia processions.
Ann