CH Cyg: A Close-up View of Codependent Stellar Living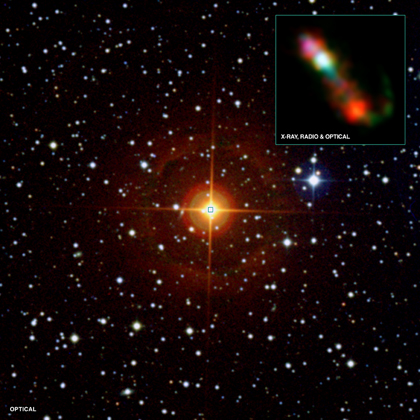 X-ray: NASA/CXC/SAO/M.Karovska et al; Optical: NASA/STScI; Radio: NRAO/VLA; Wide-field Optical: DSS
This image shows the symbiotic system known as CH Cyg, located only about 800 light years from Earth. The large image shows an optical view of CH Cyg, using the Digitized Sky Survey, and the inset shows a composite image containing Chandra X-ray data in red, optical data from the Hubble Space Telescope (HST) in green, and radio data from the Very Large Array (VLA) in blue.

CH Cyg is a "symbiotic" star system in which a white dwarf feeds from the wind of a companion red giant star.
The inset shows a powerful jet in CH Cyg that is moving at over 2 million miles per hour.
The detailed structure of the X-ray jet is seen for the first time in this system,
showcasing the superb high-resolution capabilities of Chandra.
A Precessing Jet in the CH Cyg Symbiotic System