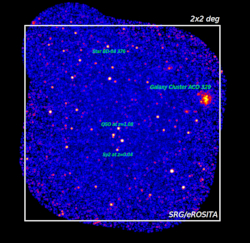 HEAPOW: Looking Forward to eROSITA (2019 Oct 07)
Mapping the X-ray emission over the entire sky helps alleviate scientific FOMS: fear of missing something. The X-ray sky is

extremely dynamic and ever-changing

, and all sorts of interesting things happen all the time: stars

explode

, black holes and neutron stars

merge

, supermassive black holes shoot enormous

jets of high energy particles into intergalactic space

, and other peculiarities beyond the realm of current understanding and imagination. A new telescope,

eROSITA

, aboard the

Spektr-Röntgen-Gamma

(Spektr-RG, or sometimes simply SRG) is beginning its mission to actually map the entire X-ray sky. eROSITA consists of

seven individual X-ray telescopes

covering about 1 degree of the sky at at time. From its halo orbit at the

earth-Sun L2 point

(about 1 million miles from earth), eROSITA wiill scan the entire sky over a 4 year period (followed by targeted observations of individual sources of interest after that). eROSITA's All-Sky Survey advances the ground-breaking

All-Sky Survey

carried out by the

ROSAT

X-ray space observatory nearly 30 years ago. eROSITA's All-Sky Survey will be a major step forward in imaging resolution over an energy band more four times larger and a timespan about eight times longer than the ROSAT All-Sky Survey. The images and spectra obtained by eROSITA will be an enormous treasure-trove documenting known and currently unsuspected X-ray sources in the Universe. The image above is a verification image obtained by a single eROSITA telescope, of the so-called "Ultra-Deep Survey" area. The UDS is part of XMM's "

XXL survey

" to study galaxy clusters to reveal how

Dark Energy

shapes the structure of the Universe. eROSITA is currently undergoing performance testing prior to the start of its all-sky survey observing phase.
MPE: A Glimpse of Extragalactic Sky with the SRG Observatory: eROSITA Opens Its First Eye
viewtopic.php?t=39544