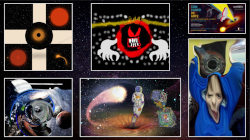 HEAPOW: Picturing Black Holes (2020 Dec 21)
The

Astronomy Group at the University of Southampton

, with the support of

NASA's Neutron star Interior Composition Explorer

(NICER) mission,

The Royal Society

and the popular site for science communication

CienciaEs.com

, organized an art-science competition (

#astroarteagujero

) in order to engage the international Spanish-speaking community in Black Hole research. Both amateur and professional artists were invited to learn about astronomy and black holes by listening to

Dr. Diego Altamirano

's podcast, "

Agujeros negros en el Universo

" ("Black Holes in the Universe"), and to express their new-found knowledge and inspiration through their artwork. The competition attracted more than 160 artists from 15 countries with more than 260 art pieces submitted. The winning images from the 4 different age groups are shown in the collage above. Top left is the entry from Christian Zamarripa Rivera (M&eacutexico) and Estevan Barr&oacuten (M&eacutexico), winners of the 18 and older group; bottom left, the entry from Gabriela Higinio (M&eacutexico) and, bottom center (featuring a depiction of NICER), the entry from Domenica Nuñez del Arco Abad (Ecuador), winners of the 12-17 year old group; bottom right, the entry from Ariel Tagliebue (Argentina), winner of the 7-11 year old group; and last but not least, center top, is the entry from Alan Nevarez Marquez (M&eacutexico), winner of the 6 year old and under group. Additional details about the competition can be found at the

Astroarteagujero Facebook group

, and all the art pieces can be found using the hashtag #astroarteagujero on

Facebook

and

Instagram

.
Facebook: #Astroarteagujero
Instagram: #Astroarteagujero