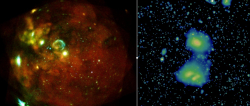 HEAPOW: Magnificent Seven (2019 Oct 28)
eROSITA

, a new X-ray instrument aboard the

Spektr-Röntgen-Gamma

(Spektr-RG, or sometimes simply SRG) space observatory, has now completed its on-orbit checkout and performance verification phase and has begun science observations with all seven of its X-ray telescopes in operation. The initial results, shown above, have been exciting and an excellent example of things to come. eROSITA's main task it to map the entire sky in X-rays. It consists of

seven individual X-ray telescopes

, providing sensitive observations over a wide field of view and over a broad range in X-ray energy. As eROSITA moves in its

parking orbit

, 1 million miles behind earth along the earth-sun line, it scans a strip of the sky with its seven telescopes, and, in the course of a year, will build up an image of the entire sky, strip by strip. The image on the left above shows a complete "first light" image of the

Large Magellanic Cloud

, our neighboring galaxy and a satellite galaxy of the Milky Way. eROSITA's X-ray image highlights the diffuse X-ray emission from the hot gas in the LMC (produced by supernova and the powerful collisions of stellar winds), along with X-ray emission from individual sources, like accreting neutron stars and black holes. On the left is an eROSITA image of two interacting galaxy clusters,

Abell 3391

and

Abell 3395

. The diffuse X-ray emission seen in the image is produced by extremely hot gas held bound in the space between the galaxies in the clusters. Observations with eROSITA will help scientists understand the structure and evolution of the Universe, and provide a unique archive of transient sources and

things that go bump in the X-ray night

.
MPG: X-ray Scout Sees First Light
viewtopic.php?t=39544#p296457