How should a scientifically literate person conduct a constructive conversation with someone who holds pseudo-scientific beliefs?
My usual approach is to avoid conflict and quietly scrunch my face, like a frazzled Kermit the Frog. I am not convinced that this is the best solution, considering the rampant misinformation bombarding society from all directions these days.
Slogging waste-deep into "battle" every time someone delves into the "healing properties of crystals" or suggests you shouldn't eat anything you can't pronounce because "chemicals aren't natural" is not really sustainable, either.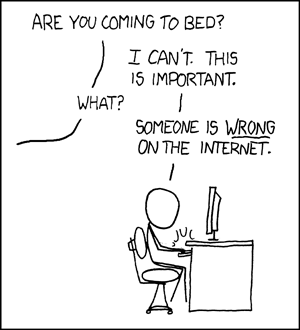 I have thought about this quite a bit (sorry if I have brought up this topic on APOD before, I think it is very important). Generally I think it is wise to approach such a conversation in a way that doesn't put the other person on the defensive. If someone feels that he/she is being singled out or attacked – particularly on a subject to which the individual derives self-identity – you are not likely to change that person's position.
Some conversations grind to a halt in seemingly unavoidable impasse. Let's say person A is making arguments based on established scientific principles and person B is espousing pseudoscience. If person B does not have even a rudimentary understanding of those scientific principles, to him, person A will sound closed-minded and arrogant. From B's perspective, A is just describing an "alternate point of view" and is biased because he/she won't entertain any other solution. If A tries to summarize/explain the scientific positions on which his/her arguments are based, person B is already on the defensive.